While speaking at Millennium Grow's networking VIP Cannabis event in Denver, our Chloe Sommers offered observations on the tech industry and parallels in cannabis industry, when she was verbally attacked by the event's emcee.
We at the Never Daunted Radio Network don't condone abuse or hate speech of any kind but feel it necessary to call out those who continue to stand by their abuse. Patti Zanin verbally attacked Sommers during last night's event while continuing to defend her actions. While unavailable for comment, we urge Zanin to reflect upon her attacks, because bullying, abuse, alcoholism, sexism and anti-feminism are never an excuse.
The following is her prepared speech in it's entirety:
Good evening everyone, I'm Chloe Sommers I'm an experienced, Peabody award-winning CNN journalist. I've covered politics from the White House, Senate, and Congress for CNN. In that time, I reported from the White House for all the major networks and was the first to break the news of the Paris Terror Attacks when I was overnight newsroom editor for the CNN DC bureau. While reporting from DC, I realized that there was no professional coverage of the medical, business, and political fronts when it comes to cannabis. So, with my Master's in Journalism and degree in Political Science I seized the opportunity to be that person.
Most recently, I've been focusing on reporting on the cannabis industry for some of the biggest names in cannabis news like Leafly, DOPE, Westword, Ganjapreneur, and The Marijuana Times.
Reporting on you all, and the ever-changing laws is a LOT of work. But I dove in head first, moving to Denver to report on what's going on with all these cannabis startups – your businesses are already shaping our future, influencing millions around the globe and in a time where there are so many negative forces, we need to make sure our influence is positive.
Now that I've laid out my credentials – as a journalist tonight I'll be diving into the lack of accountability for misogyny that can run rampant in any industry and the issues that can arise from a lack of accountability for those in power. Ultimately, it leads to the reinforcement of unprofessional stereotypes for an entire group.
For example, let's begin with this weeks' TIME magazine cover which has a very prominent and some would say 'legendary' CEO of the fastest growing, most valuable startup in the world – Uber.
Travis Kalanick is the CEO and founder of Uber and he and his company are the cover story for all the wrong reasons. Sexism, mismanagement, a lack of accountability, and invasion of privacy are only a few of the scandals plaguing Uber right now – so much so that he was forced out by the board and resigned today as a result of the negative workplace he that fostered – where a former female engineer wrote an expose on a the culture of sexism and mismanagement there, and where a male board member said – in front of Arianna Huffington (who was a fellow board member) that more women on the board would just "lead to more talking". He resigned earlier this month as well.
The negative environment Kalanick fostered continues to hurt Uber's bottom line – think about it – investors are saying they may want their money back and riders are boycott the app. The cannabis industry is vulnerable to this too.
Case in point, the biggest and most paralleling instance was just a couple of weeks ago when in reaction to a pro-abortion post online, The CEO of the cannabis extract company EVOlabs, Alex Cahoj, said the solution is simple: women should just stop being WHORES.
(Post as it appeared below)
The woman who posted the article – which has nothing to do with cannabis- is here today, Jeanna Hoch, and she's a Cannamama advocate. She's pro-choice, and while everyone can have an opinion on abortion — the fact is no one is allowed to have an opinion on whether they think a group of people are WHORES. It's sexist, it's divisive, and it's hate speech. I asked the Cannamama what happened and how it made her feel. She said she felt disgusted and angered but ultimately it empowered her to call for a boycott of his cannabis company:
"He dared to spew his privilege and rhetoric in public without regard for others. He purposely demeaned women and laughed about his own behavior publicly, and went further to encourage the boycott of his company as a proud stand for his oppressive views."
The marijuana industry must be better than this.
It's easy to support amazing women like Amy Dawn Bourlon-Hilterbran and Teri when they support veterans and medical refugees but what about women who are controversial? Like Hock's CannaMama Clinic and Ellementa with their women-only pot discussion group. There's a severe lack of empathy and willingness to listen and agree to disagree when it comes to women and it's systemic of our times – there's no discourse, no discussion, no middle ground. it's just I'm right and your wrong.
Amanda Reiman of the Drug Policy Alliance recently reinforced the fact that women were largely invisible in the cannabis space prior to legalization. She said:
"Female struggles in this industry mirror the same struggles in every other industry and assumptions about women, their ability to lead and to contribute in a meaningful way often plague American industry in general and the cannabis sector is no different."
America and the world are looking to you all – the rest of the United States, Canada, and New Zealand – which happens to be very anti-cannabis, I'm working to change that as I work closely with the well-known New Zealand advocate, Abe Gray.
The point is, you all know what it's like to be oppressed and discriminated against for what others think is right but you know is wrong. The cannabis industry has been vilified for decades by people in power like Jeff Sessions. Now that you have a legitimate industry, with the world's eyes on us, how are we holding ourselves accountable as investors, executives, and consumers?
I know this speech and the issues of inclusiveness in the industry was an important one to talk about tonight because I practiced my speech, I've bounced ideas off of dozens of others – and every single time what I'm saying to you tonight sparked a different discussion. From LGBT, to people of color, and women. And I do think cannabis is leading the way in equality and I see that most people here are fighting for their moral compass. I mean, look that the percentage of women in executive positions here: Forbes reports women make up 36 percent of corporate leaders in cannabis and 63 percent of management positions – it's an accomplishment to be proud of, especially compared to all other businesses which have a pathetic 5 percent of women CEOs and 25 percent of top management.
Listen, there are a few bad apples, just like in any industry but we must hold them accountable for their divisiveness and hate speech and my call to action for you all tonight is to put your money where your morals are.
Surprisingly, Patti Zanin, the evening's emcee, gave an immediate, visceral reaction, not only interrupting Sommers, but went on to personally attack her both at the event and later online.
In the video, Sommers immediately got up accusing Zanin of abuse and hate. forcing Zanin to apologize.
A woman identifying herself as Zanin's daughter approached Sommers attempting to apologize for her mother. According to Sommers, she didn't accept the logic behind what Zanin did when the daughter blamed her mother's abusive actions on mental diseases and alcoholism.
"I told her daughter that I know what an abusive alcoholic sounds like, and her vicious and hate-filled personal attacks remind me of that." Sommers continued, "I look forward to calling out this abuse and getting over it so we can have the discussion on sexism and misogyny that's obviously needed…I was prepared to defend my observations but I didn't expect the attack would be from the female emcee."
The next day, Zanin continued her attacks on Sommers, standing by what others are calling embarrassing, unprofessional, oppressive actions.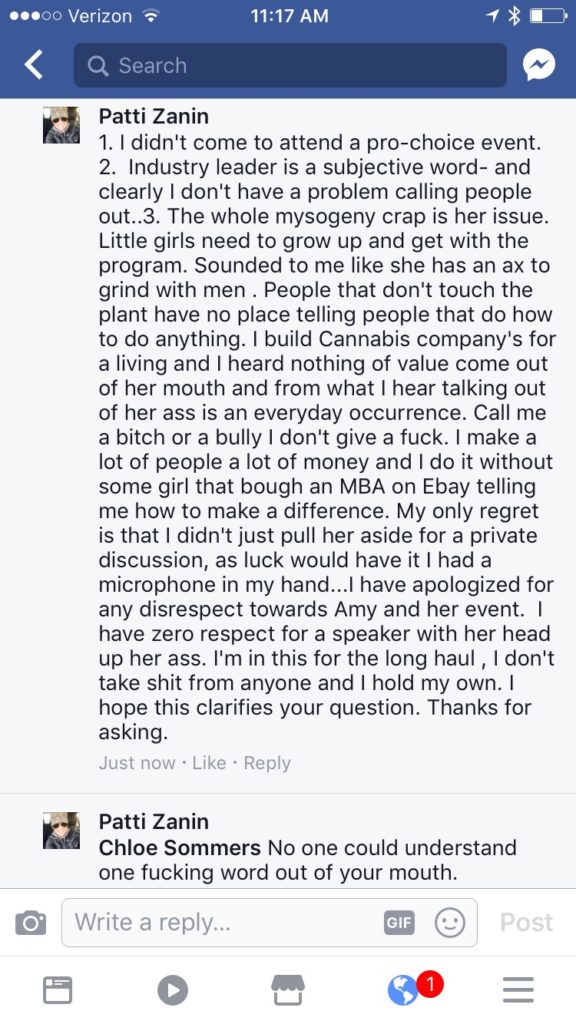 Sommers said she doesn't normally engage with abusers like Zanin, but certainly hopes Zanin gets the help that she needs and is looking forward for a larger discussion on the issues this all brought to light.
"I'm proud of what I did and stand by my speech; Zanin is a prime example of the hate and divisiveness I was talking about," Sommers said. "I obviously hit a nerve inside of her, but there's NO EXCUSE for abuse of any kind. I forgive her but she and Alex Cahoj need to be held accountable."
For more on this incident, additional information on Sommers' speech and the aftermath can be found at Westword and The Cannabist.
---
Hashim R. Hathaway (Shimbo) is the host of the Never Daunted Radio Network, and proud father to NeverDaunted.Net. You can reach him on Twitter @NeverDauntedNet