On November 23, 1998, what is commonly described as one of the greatest video games ever created was released to an eager North American audience.  

The Legend of Zelda: Ocarina of Time

went on to sell more than 7 million copies worldwide, and continues to capture the imaginations of gamers to this day.
In its shadow, just over three weeks later, another revolutionary Legend of Zelda game made its debut, for a second time.  The Legend of Zelda: Link's Awakening DX was, of course, the definitive version of what had already become a classic Game Boy title, now available for the first time in color.
Link's Awakening DX was also the very first true remake of a Zelda title, setting a trend that culminates in next month's release of The Legend of Zelda: Twilight Princess HD.  Nintendo has issued more remakes in the Zelda series than any of its other acclaimed franchises — even Super Mario and Pokémon.  With Twilight Princess HD, Nintendo will have recreated, repackaged, and remastered every major home console title in the legendary series, save the newest original game, 2011's Skyward Sword, and, curiously, the first two games originally released for Famicom and the NES.
As an aside, the original The Legend of Zelda did get a remake of sorts, but it was never released outside of Japan, and crucially it can no longer be played in any conventional or authorized manner.  In 1995, Nintendo and publishing partner St.GIGA created BS Zeruda no Densetsu, a downloadable game for the then-cutting-edge BS-X Satellaview, a Super Famicom peripheral that allowed players to download games via a satellite receiver.  Twenty-five years before digital-only titles would become an industry standard, Nintendo made this curious time-challenge version of the 1986 classic available only via download.
While BS Zelda survives in the ROM-swapping community thanks to the efforts of a few far-sighted Satellaview owners, Nintendo would wait another three years to issue its first "official" remake of a Zelda title, Link's Awakening DX.  More than just a colorized version of its Game Boy source, LA-DX featured an entirely-new dungeon and what felt like a much more interesting world to explore thanks to its now-vibrant color palette.
From there, Nintendo recognized the long-term play value and resaleability offered by the deep, lavishly-produced Zelda games, and subsequently every "main" game has gotten the enhancement treatment.  The Legend of Zelda: A Link to the Past (which also saw a BS-X Satellaview broadcast in 1997) returned via Game Boy Advance in late 2002, nearly unchanged save a smaller screen resolution and with the welcome addition of Four Swords, which itself was remade in 2011 for the Nintendo DS in a 25th Anniversary Edition.  Ocarina of Time was remade not once but twice: first as a lightly-tweaked GameCube port, the Master Quest limited-edition bonus for The Wind Waker pre-orders; and then again for Nintendo 3DS as The Legend of Zelda: Ocarina of Time 3D, a more ambitious and visually-pleasing true remaster.  The Wind Waker HD debuted two years later as the first Zelda release for Wii U.  The Zelda remake renaissance continued in 2015, with the brilliant enhanced remaster The Legend of Zelda: Majora's Mask 3D for Nintendo 3DS.  (Lest we forget, Majora's Mask also saw a straight port on the GameCube in 2003's Collector's Edition disc.)
Twilight Princess was sort of remade right out the gate, if you consider its GameCube release to be the true original and the simultaneous Wii version to be an enhanced port, with 16:9 visuals and motion controls.  (Complicating matters further: the Wii version was published weeks before the GameCube release.)  And now what's old is new again, as TP makes its HD return on March 4.
A Skyward Sword remake seems inevitable at this point, especially given the Wii release's somewhat muddy visuals, divisive control scheme, and laborious "tutorial" in its opening hours.  If there's one thing the numerous Zelda remakes have done well, it's improve upon the originals and fix whatever flaws they had.  Wind Waker HD is the best example of this, with the much-improved sailing mechanics and abbreviated Triforce shard quest; likewise, Majora's Mask 3D made many changes to address complaints gamers had about the Nintendo 64 original.  I remember that version as frustratingly difficult by Zelda standards, particularly its arcane save system.  I attempted a replay when it arrived on the Wii Virtual Console nine years later, and I gave up pretty quickly.  Majora's Mask 3D rectified all of my complaints about the original, making it just a bit more accessible while greatly improving the graphics and speeding things up a touch.
So it seems strange, then, that Nintendo never bothered to take another crack at Zelda II: The Adventure of Link, generally considered the worst title in the series.  Yes, Zelda II has its fans and defenders, but this is the game that even Shigeru Miyamoto hinted was likely his biggest regret.  Zelda II took some big risks and introduced interesting new mechanics and gameplay, but it is badly hindered by poor localization, severe difficulty, and critical situations (like finding Bagu's house) that are nigh impossible without the help of a player's guide or walkthrough.  As a nine-year-old, I spent hours of severe frustration trying to find Parapa Palace in the western area of the map, since an NPC had told me to "GO WEST" in search of it.  Parapa Palace is, of course, in the east.  But I do go on — if any Zelda game needs a remake for redemption, it's the unloved second in the series.
And what of the first, original, 1986 Famicom Disk System release that gave the franchise its name and propelled Miyamoto-San even further into video game history?  As it is, the original is very good: a memorable soundtrack; crisp, clean, vintage 8-bit visuals; clever map design; challenging boss fights; and a great all-around experience.  Yes, it suffers a bit from the "I have no idea what to do next" that was MUCH worse in its sequel, but it was really revolutionary at the time and still holds up well.  A FAQ or walkthrough is essential for the first-time player even today, but I'm not certain adding modern visuals or even a Link Between Worlds sort of aesthetic would be an improvement.  If anything, I'm hopeful the upcoming Wii U title will be a sort of spiritual reboot, simply called The Legend of Zelda and serving as a total reinterpretation and fleshing-out of that classic's sparse storyline.
Until then — and I'm not certain it will come out in 2016, or only on Wii U for that matter — I have high hopes for Twilight Princess HD.  The original is the only other "main" Zelda game besides Zelda II which I haven't finished, owing to my dissatisfaction with the Wii control scheme (and just meaning to get back to it later, then never making time).  Nintendo has proven they can and do listen to fans and critics when it comes to remastering their most-beloved property not named Mario, and the long list of successful Zelda ports gives plenty of reason for optimism.
---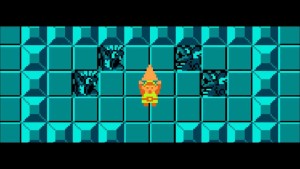 AT A GLANCE
The Legend of Zelda: Twilight Princess HD
PLATFORM: Wii U
PUBLISHER: Nintendo
DEVELOPER: Nintendo
RELEASE DATE: March 4, 2016
ESRB RATING: T
FRANCHISE: The Legend of Zelda
DESCRIPTION: High-definition remake of the 2006 GameCube and Wii title, a linear action-adventure with an emphasis on sword combat, puzzle-solving, side quests, and boss fights in a high fantasy setting.
WHO WILL LIKE THIS: Fans of the Legend of Zelda series
WHO WON'T LIKE THIS: Players who absolutely hated the original Twilight Princess and refuse to give it another shot
SIMILAR TITLES: The Legend of Zelda: Skyward Sword; Darksiders II; Okami; Beyond Good & Evil HD
---
James Jackson is a producer for the Newsource division of CNN.  He lives in Atlanta and collects video games.  Harass him on Twitter at @JJtheTexan.