by Shimbo
Kim Kardashian wants us to love her, or at the very least, she wants us to love looking at her.
Whether it's an innate desire to expose herself for all the world to see, or likely another chapter in her never-ending quest to capture and maintain our collective attention, Kim is once again baring all within the pages of this month's issue of Paper Magazine.
At this point, we're all pretty familiar with the Kardashian Kurves™ so nothing about this latest set by renowned fashion photographer Jean-Paul Goude is necessarily shocking or even all that novel. Of course, if you love and/or appreciate a big fat ass, Kim delivers as she always has with relative ease.
In all honesty, it's hard not to get caught in the hypnotic thrall of what could be currently the most famous cheeks in the world (although Nicki Minaj would certainly beg to differ).
Big asses are currently the trendy thing, what with the emphasis on twerking and butt implants and everything else in between. To be sure, they've always been popular in some areas more than others, and Kim certainly isn't the first personality to be known for her ample assets, but as in most things, size matters, and her ass is large enough to be top of the heap.
Maybe it's the cynical times we live in, or maybe the fact that when it comes to seeing celebrity skin, there's no shortage of opportunities, but something about this latest Kardashian attention grab rings a little more hollow than usual, which in turn is casting a pall over the whole thing in a way that it shouldn't.  There was a time when the lurid possibility of seeing a celebrity pose nude was exciting. Now, it sets itself up for almost instant ridicule.
Certainly, much of the ridicule aimed at Kim may be a result of her seemingly vacuous personality or carefully sculpted and highly documented life. But what presents itself is a situation where an extremely attractive woman is a essentially a target for hate.
Is the hate deserved? It's probably a subjective question, depending on whether you love or hate someone whose made a rather lucrative career from being famous for being famous. Whether it's the multiple televised weddings, the perfume or the video game app, Kim's business is recognition, and what better way to get that sort of recognition than by being naked?
For the Paper Magazine shoot (hashtag 'BreakTheInternet'), Jean-Paul Goude harkens back to some of his earlier work, which unabashedly focuses on the sexualization of black women's bodies, particularly their asses. For some this sets up a problematic situation, but Kim Kardashian seems to be far more calculating. Whether it's her preference for black men, or her emulation of the exotic stereotypical voluptuous woman of color, it was natural choice for her to recreate some of Goude's more memorable pieces, such as the erroneously titled "Champagne Incident", featuring model Carolina Beaumont.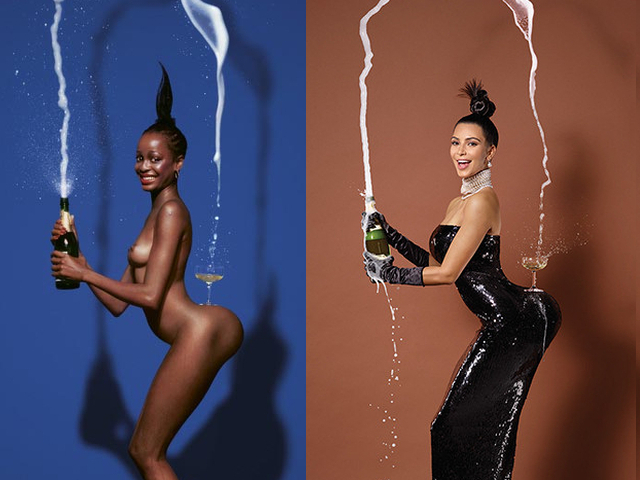 Kim's famous ass is digitally manipulated to resemble the effect of balancing a champagne glass much like Beaumont's (which was also manipulated in a much more painstaking pre-Photoshop process. Whereas Beaumont evokes a problematic sterotypical depiction of the black servant, Kim's version is meta in the way that the picture gives the feeling of it being a celebration of her ass. While Beaumont is completely nude, Kim is in full cocktail party regalia, with shimmering sequins, gloves and pearls.
To look at Kim looking back at you with her gaping mouth upturned into a self-congratulatory smile seems to instantly tell you everything you need to know about this photo shoot: she knows that even if you don't like her you want to look. Whether it's lust, envy or amazement, you want to look at what she has and for her, it is a celebration, because she wins, no matter what.
The rest of the shoot segues from the celebration to the striptease, with less an emphasis on tease. While previous shoots left something to the imagination, this shoot is all about showing you what she knows you want to see.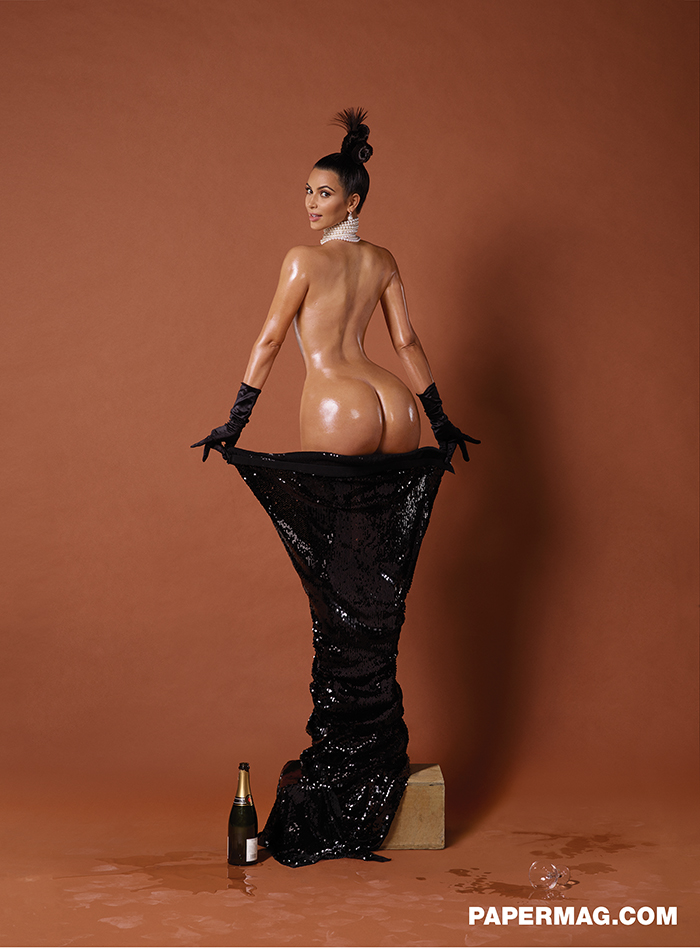 Looking at the full monty ass shot, it's easy to see that Kim's standing on a pedestal, and that brings its own set of connotations to the fore. Again, her look is not sultry or in any way sexual. It's a knowing look, as if to say, "Of course this is what you came to see."
Kim is oiled up and shiny, less like a person and more like a product, in a sense. Even though the very concept of Kim Kardashian is getting older by the moment, she wants to present herself as if she's "brand new". Despite the fact that we know her more than ample curves are real, it's clear that her waist has been digitally altered to give even more emphasis on her ass. While it's naïve to think that any photo is printed without at least a little Photoshop work done to it, what's going on here with that ass is almost intentionally unreal.
But then that's been the argument about Kim, whether or not the lack of reality is her reality.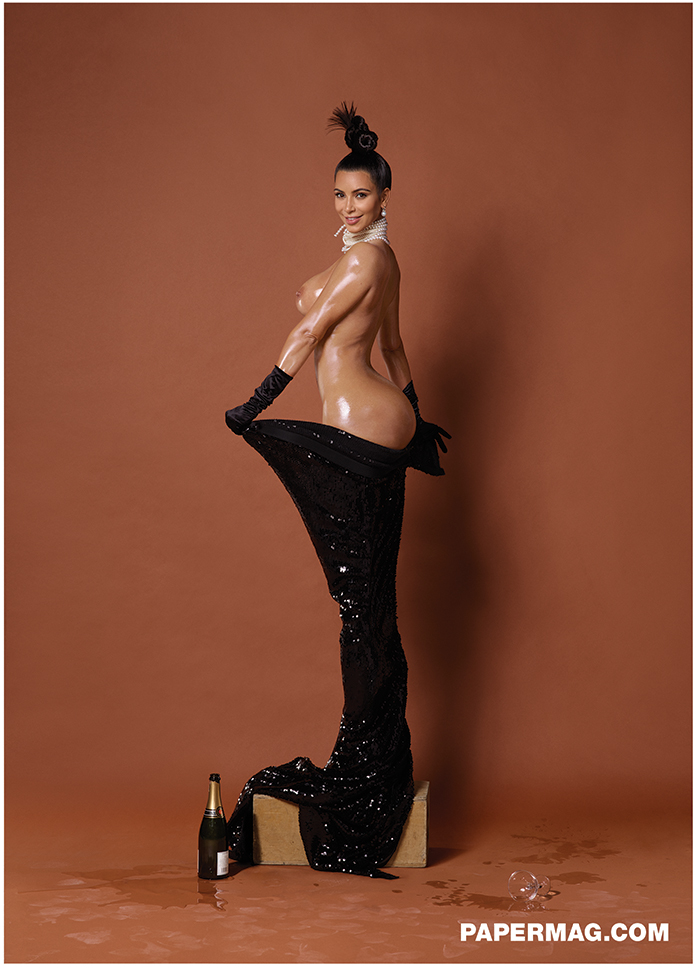 Even more intriguing than the monster ass and tits on display in each photo is that damned look. It sucks away the sexuality of the photoshoot, and it's clearly intentional, but it's hard to get away from the notion that the pure artificiality behind the wide-eyed sheepish grin is actually mocking in nature. The fake smile keeps Kim held in a limbo of disingenuousness that leaves us to wonder if she's faking it to make us like her more, or to disguise some level of contempt.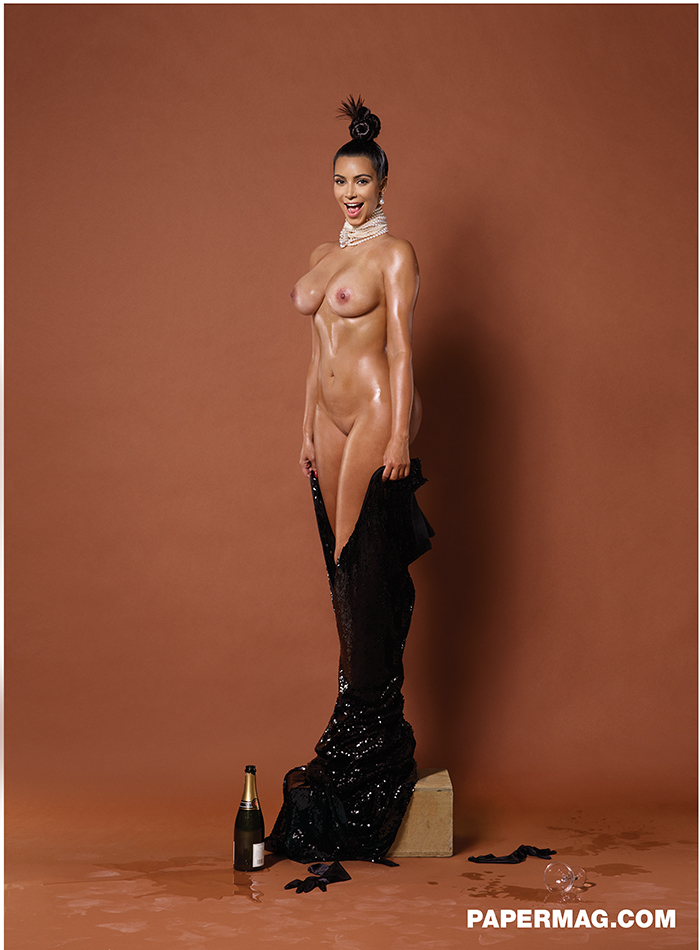 In the final photo, Kim is laid completely bare, standing at attention both literally and figuratively. Both perky and proud, at this point, the gaped open grin begins to resemble something you'd see at some carnival or fair. And in the end, isn't this, the cult of celebrity, just another carnival we rush to buy tickets from?
When Kim did her first nude shoot in Playboy way back in 2007, it was an experience she claimed to hate, pushed to do it by her equally famewhorish mother. Now, seven years and three or four nude shoots later, here she is, presenting a version of herself that in many ways lacks reality in the same way her various "reality" shows do.
Even the conceit of posing nude in a fashion/lifestyle magazine like Paper as opposed to doing Playboy again has that same hollow feel to it. And maybe it doesn't matter, but then shouldn't it? Because for whatever the public has to say about Kim, they keep showing up to the trough to feed on her big fat ass whenever she deigns to show it off for the masses, which seems to be more and more often these days.
Despite the fact that she's approaching the back end (no pun intended) of her thirties, coupled with motherhood and her third marriage to enfant terrible Kanye West, Kim is determined to be the ageless blown-out Barbie doll she thinks we'd all like to fuck. Kim is empowered by the attention you give her and the money you spend on her products. At this point, she is comfortable in her status as a reality sex object, and as many feminist stomachs that notion turns, she is laughing all the way to the bank.
It may be popular to hate Kim Kardashian, but even in hate, she gets the attention she so desperately craves. The public will love her, loathe her and lust after her for some time to come, at least until something better comes along, or our global love affair with big asses comes to an end.
All you have to do is look at Instagram on any given day and you'll see the hundreds, even thousands of Kims-in-waiting to know that someone is aching to take her place, and eventually they will. Just ask Paris Hilton, nearly consigned to the dustbin of history by a former friend who went from hanging on her coattails to having her star shine brighter than hers ever did.
Just by showing a lot of ass.
---
Hashim R. Hathaway (Uncle Shimbo) is the host of the Never Daunted Radio Network, and proud father to NeverDaunted.Net. You can reach him on Twitter @NeverDauntedNet